7 beloved women by Pablo Picasso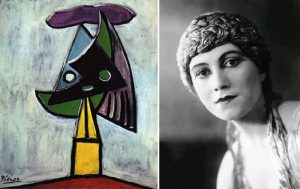 "If he had not become an artist, he would have become Don Juan," once said a friend of Pablo Picasso, the French playwright Jacques Cocteau. And it's hard to disagree with him. You can write a lot about the views of the artist (creative, smoothly flowing into sharply political), family and friends (who have had a significant impact on his success), but this review will focus on the role of women in the work of Pablo Picasso.
In many ways, the stages of the artist's work (blue, pink, cubic, etc.) were accompanied by the woman who was next to him during his life. To be more precise, it was the woman who led him to one or another stage of the creative path with the totality of her styles and directions. As Picasso himself admitted: "Life is extended by work and women."
First muse
The first companion of his work was Fernanda Olivier (he was 23 years old, she was 18), a long-time girlfriend and the ancestor of the "pink" period. It was with this woman that the artist painted, which soon began to buy. She was also a model of one of Picasso's most significant works – Avignon Maidens, 1907, which is recognized as the starting point of modern art. The artist characterized Fernanda as a self-confident and self-sufficient woman. Picasso has implemented a series of paintings and sculptures called "The Head of Fernanda," some of which are now in dozens of world museums.
Powerful girlfriend – Gertrude Stein
Once the writer Gertrude Stein visited Picasso when he was finishing work on the painting "My Beauty" (1911) and stated with all confidence: "It cannot be Fernanda Olivier." Indeed, the canvas depicted a woman who took a new place in the heart of the artist – Marcel Umber. Gertrude, of course, is not among the beloved of our painter. However, its influence on the creative flowering of Picasso cannot be ignored. By the way, depicting the famous portrait of the same name by G. Stein Pablo Picasso rewrote the picture countless times. In the summer of 1906 he traveled to Andorra and Gosol. After which, having returned to Paris, he completed the portrait already under the influence of African culture. As a result of this, Picasso created a voluminous composition consisting of many parts, which heralded a new direction in the artist's work – cubism.
Ma Jolie (My Beauty)
The above-mentioned painting "My Beauty" became a kind of declaration of love Marcel Umber. The model, bearing the name of Eva Guell in a bohemian Parisian environment, was Pablo Picasso's lover during the period of synthetic cubism, from 1912 to 1915. As he wrote to his art dealer Kanweiler: "I love her very much and I will write her name in my paintings." Indeed, portraying Cubist still lifes, Picasso inserted words of dedication to his beloved. This time was too full of happiness: in 1915, Marcel died from tuberculosis.
Become and Slavic charm
Jean Cocteau once invited Picasso to take part in the design of the ballet Parade. There he met the Russian ballet dancer from the corps de ballet – Olga Khokhlova, a diligent and hardworking dancer. She was distinguished by Slavic charm, become and grace. Olga Khokhlova brought revolutionary ideas into the life of the artist, he studied the February Revolution with interest and even wanted to learn the Russian language. Acquaintance with O. Khokhlova marked the return of the artist to the classical genre. In total, the painter took part in the design of 6 ballet installations. Subsequently, Olga Khokhlova became the first wife of Picasso, and in 1921 their son Paul was born. However, Olga's desire to remake her husband in accordance with her bourgeois tastes was a fatal mistake. At the age of 46, the artist fled from Olga to the 17-year-old Maria – Theresa Walter.
See ALSO: Life after Picasso: Why the Russian wife of the famous artist spent the last 20 years alone and oblivion
She waited for him all her life
Love for Maria Theresa Walter left a significant imprint in the work of Pablo. This period can be described as the peak of his work. Having fallen in love with Picasso, this girl forgave him a freedom-loving and complex character. Her interests were completely different from art – swimming, gymnastics, cycling, mountain climbing. Their relationship rested on her docile, lively and cheerful character. In 1935, Maria-Teresa and Pablo had a daughter, Maya, whom Picasso was happy to draw later. The girl hoped that Picasso would marry her, but her hopes were not realized. Despite the termination of relations with this muse, Picasso provided her financially and even bought her a house.
Dora Maar is a 29-year-old artist and photographer, thanks to whose influence the artist began to use a new style – the combination of photography and painting. This was a completely different type of woman: smart, thin, nervous and a little unbalanced. Douro Maar Picasso painted 9 years (1935-1945). And it was with Dora that the artist created a unique masterpiece – a painting by Guernik.